---
Articles
Posted by Claudia Presto on
Here are a few. More are at Testimonials.  These are unsolicited testimonials. I get them daily. Thank YOU for helping your dogs feel better. You can purchase Get Up & Go products here.  Did I tell you how happy i am with the combo of the gluco and msm ? Ranger is no longer limping or even favoring that sore foot/leg where the vet said he saw the early signs of arthritis. He's playing with his stuffies again, running around the house, up and down off the furniture without hesitation. I couldn't be more thrilled. Bonnie of CA On all your products...
---
Posted by Claudia Presto on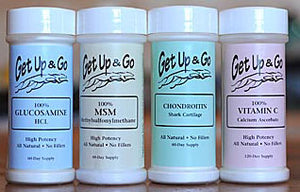 Get Up & Go history and product information. Everyone - hound and human - could use a little Get Up & Go in their lives.
---
Posted by Claudia Presto on
Answers to questions about Get Up & Go.