---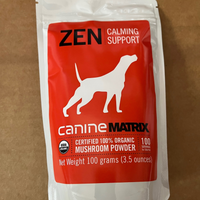 Sale
Mushroom powders are magical. They all help boost the immune system. Each also has specific powers. This blend will help if your pets need a little bit of balancing and focus to get through their day (you can take too!), This combination of powders helps with anxiety and stress in our daily lives. Also supports adrenal gland. 100 grams. 
 Active Ingredients: 
Certified Organic Proprietary Mushroom Powder Blend:
King Trumpet, Cordyceps, Turkey Tail, Reishi, Antrodia 
Other Ingredients: Organic Myceliated Oats.


Dosage: 1/2 tsp. (1 gram) per 25 lbs. Twice a day for the first three weeks. 
Expiration date: 7/22. However, product is effective much longer if kept in cool, dry place.
Retail: $27. Sale: $19.95