---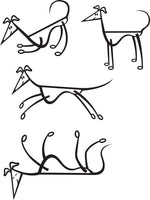 I'm a greyhound family and proud of it. When I drive around, I see those little decals of families - the Mom, the Dad, the Kids. Well, now for the first time anywhere, you can have fabulous, fun decals for the back window of your car depicting your greyhound family. Four designs. Pick and choose the ones which depict your pack and display them proudly!
In durable white vinyl, these fun designs will show your greyhound pride, and make your car look as cool as your dogs. Created by Kent Roberts. Thank you Kent!
Choose your design, then choose your size.
Designs: Standing, Running, Play Bow, Cockroach.
There are three sizes.
- Small - 2.5 inch cut-outs which will look super all in a row
- Medium - 5 - 7 inches
 - Large - 8 - 10 inches
Retail is $4. $10, $12.
Buy all 4 small decals and get them for only $13. Choose that option in the drop down menu.