---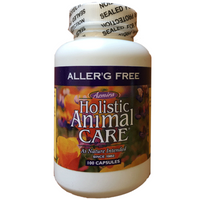 Is your dog scratching, rubbing, foot chewing, fur pulling, body biting? Are you seeing rashes, pink skin, and/or throat, nose, ear and eye irritations? Allergies are one of the most common causes of those symptoms.

Azmira's Ephedra-free herbal antihistamine can work wonders for allergic reactions. Containing: Chickweed Herb, Marshmallow Root, Mullein Leaves, Calcium sulfate, Magnesium Sterate, Colloidal Silica.
When combined with G Drops (intensive allergy tincture),  Yucca Intensive (for inflammation), Mega Pet Daily Vitamins and Vitamin C you have a good arsenal to fight off seasonal allergies. More info about environmental allergies is at Gang's site under LEARN, Medical, Allergies.

Dry herb capsules. 100 per bottle. Dose based on size.
It is often difficult to isolate exactly what is causing your dog's allergies. I've found there is definite cross-over between food and environmental allergies.  A dog prone to allergies (white dogs seem to suffer more than most) probably has both. Treating allergies from the inside out is a good thing. Greyhound Gang has lots of information under LEARN about allergies - both food and environmental. Here is info about treating environmental allergies.  If you suspect food allergies also, do read the information under LEARN, Medical, Food.