---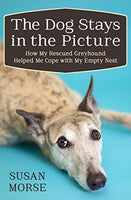 Sale
Susan Morse was going through empty nest issues, so she adopted a greyhound.It is November 2009, and after mourning the loss of Arrow, their beloved Australian shepherd mutt, Susan and David Morse and family are finally ready to adopt a new dog. David's acting jobs keep him away from home for long stretches of time, the last two teenagers are on their way to college, and this time it's Susan's turn to pick the dog. She probably should have thought a little more carefully before falling for a retired racing greyhound. 

Enter Lilly, who lands like a disoriented neutron bomb in Susan's comfortable suburban home after living the first three years of her life in the rugged and ruthless world of the racetrack. Instantly lovable but hopelessly inept at domesticity, Lilly turns out to be more than Susan bargained for, throwing all Susan and David's plans for their long-anticipated, footloose empty-nest years into complete disarray.

In The Dog Stays in the Picture, Susan Morse tells the hilarious and moving story of how an anxious dog and a high-strung woman find tranquility together.
Paperback. Retail: $18.99 266 pages.