---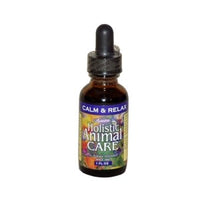 Calm & Relax, from Azmira is a specially formulated daily tonic for high stressed or fearful pets. It's a natural restorative for pets who have undergone a long and stressful period, especially involving pain, hypersensitivity or hyperactivity. A dog who reacts fearfully with aggression to new places, people or other dogs would benefit.  Some have used it successfully for thunder and firework anxieties, too.

It can also relax muscles to help relieve pain and discomfort associated with arthritis, injury and old age.
It can also help control brain activity, including those associated with seizures and aggression. It might even help with the need to 'hump' some dogs exhibit even after fixing.
Fear, from Azmira, is a better choice for thunder and firework phobias, but Calm & Relax can work with some dogs too. 
Ingredients:
This product contains a proprietary blend of American Skullcap, St. John's Wort Flower Buds, Calendula Flowers, Chamomile Flowers, California Poppy, Wild Oats, Valerian Root, Grain Alcohol, and Spring Water.
1 oz fluid standardized extract. $18.95