---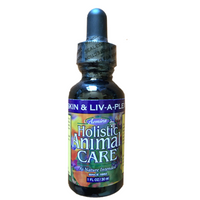 In the past, I used and recommended Milk Thistle to support the kidney and liver. Dogs, with these compromised organs and who are on steroids (prednisone) and NSAIDS (Rimadyl, Deramaxx, etc) need extra Kidney and Liver Support.   Azmira told me about this formulation, Skin & Liv-A-Plex, which is even more potent than Milk Thistle. And it costs less.

This herbal extract is a tissue and liver restorative. It protects the liver and kidney from toxins produced by some traditional medicines. It supports the liver and kidney functions in compromised dogs.  It's also indicated for a broad range of dermatological conditions including blackheads, pimples, seborrhea, oily coat and more.

Certified Ingredients - Milk Thistle Seed, Fresh yellow dock root, burdock root, echinacea angustifolia & purpurea root, sarsaparilla root, fresh oregon grape root. Grain Alcohol.

One ounce bottle. 
Dose - 1 drop per 5 lbs. Dilute 1/4 tsp of liquid per 2 drops of product. So a 70 lb greyhound needs 14 drops, diluting in 2 tsp of liquid. (water, apple juice, broth etc.) If you put in food, double or triple the dose, based on the dog's condition. I find it easy to just put in food daily.