---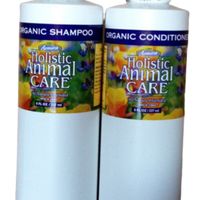 Sale
Greyhounds don't need bathing very often, but when they do, you want to use the safest, non-toxic shampoo & conditioner possible to provide a luxurious bathing experience!
This special blend of botanical extracts soothes and relieves dry skin and poor coat conditions. It helps relieve allergy and bite issues. Plus it smells really good, too. 
Shampoo - Organic coconut, aloe vera, oatmeal with standardized Goldenseal and Yucca extracts all combine to create a soothing, anti-inflammatory, allergy reducing bath.
 OUT OF STOCK - Conditioner - proprietary blend of Organic Kiwi, Papaya, Oatmeal, Palm Extract, Wheat Protein, Yarrow, Mango, Aloe Vera, Calendula and Vitamin E. 4:1 concentration  
8 ounces.