---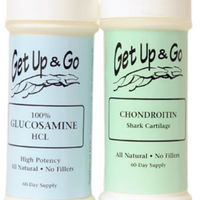 Sale
Many studies feel a combination of Glucosamine and Chondroitin best helps joint problems. Here's an opportunity to try both at a reduced price.
I think adding an anti-inflammatory, like MSM and/or Yucca is also important. Once you reduce inflammation, then these pure powders can really go to work. 
Each Bottle of pure powder contains:

Chondroitin/Shark Cartilage: 1650 mg a day for 60 days for a dog 50 lbs and over. Or for a human.  (All products are human products, just packaged for dogs)
Glucosamine HCL: 1600 - 2000 mg a day for 60 days.
If purchased separately, $54.90. As a combo, only $48.95