---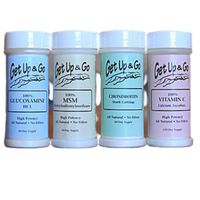 Sale
#1 Selling Product
Greyhound Gang has tried all these products, and we (and many happy dogs) know that in most arthritic situations and with most dogs, a positive change in joint mobility and health occurs. These powders are pure, with no fillers, and easy to give by mixing with food. You can take them too! If you only feed kibble, you will need to add some yogurt, or cottage cheese, or canned food, or hamburger, or chicken soup - or something into which the powders can be mixed. 
Try them all at a reduced rate of 15% off in this combo. If purchased separately, $94.80

Glucosamine HCL - 1500 - 2000 mg a day for 60 days  - 1/2 tsp daily
Chondroitin/Shark Cartilage - 1650 mg a day for 60 days  - 1/2 tsp
MSM - 2000 mg a day for 60 days  - 1/2 tsp
Vitamin C (Calcium Ascorbate) - 1100 mg a day for 120 days  - 1/4 tsp
These are packaged for dogs 50 lbs and over. If you have a smaller dog, then you would use less daily, and the product would last you longer. Humans should take 1/2 tsp of each product, daily. 

You will not find this high quality of a product for these prices anywhere else. Additionally, proceeds help hounds, so this is a very win-win-win situation.
1. Your hounds feel better
2. Your pocketbook is minimally dented
3. Other hounds are helped with the proceeds

Currently, we are ALSO sending a free When I Am Older booklet (value $2) with every order of a four-pack.