---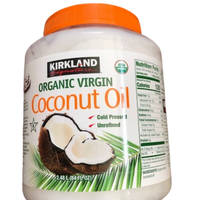 Sale
Organic, extra virgin, unrefined, expeller pressed, non-GMO.
I've used coconut oil for years in cooking, but just recently started giving it to my hounds in their food, especially a new boy with lots of systemic and skin issues. What an obvious positive result!  You can also apply to the skin. I use both Coconut Oil and Grizzly Wild Salmon Oil.
Skin & Coat issues - itching, allergies, dandruff, yeast, wounds and more.
Digestion - Irritable Bowel, nutrient absorption, bad breath and more
Overall Health - anti-viral, fungal, bacterial support, balance insulin, weight loss, energy  and more
Coconut Oil has more than 90% saturated fats - MCTs.  Lauric acid (found in breast milk)  is the main component. Lauric acid in coconut oil has antibacterial, antiviral and anti-fungal properties. 
Work up to one tablespoon daily in food. It also can be applied topically. 
Offered in  HUGE 42 oz jar - Kirkland. 
This is the coconut oil Costco sometimes carries. They have the best prices. I'm offering their 42 oz jars, just in case you can't get to a Costco and get a better deal.  This is more expensive to ship. Heavy and odd shape. If you buy coconut oil, make sure it is  organic, extra virgin, unrefined, expeller pressed, non-GMO.  
You can use this for cooking, on your skin, on your hair and more. 
 Retail: $29.95