---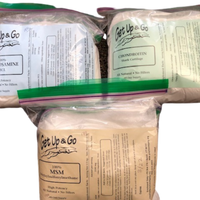 Sale
Cost Effective!

You get THREE 180-day refills - 3 bottles worth in each bag - (for a dog 50 lbs or more) of each product  (and there's always a little more) with this combo at a rad price. 
Glucosamine - 180 days
Chondroitin - 180 days
MSM - 180 days
Dose: One-half teaspoon daily of each equals 1500 - 2000 mgs for dogs 50 pounds and over. Dogs weighing less, get less. 
 Retail: $206.55