---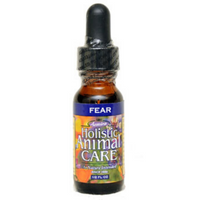 This works. Really. Truly. But you must use it for it to work. Don't let your dogs suffer with shaking, drooling, and anxiety during thunder and/or fireworks. A few drops on their gums will help them have less fear. 
This formula releases old fears and eliminates the likelihood of fear based reactions to thunder, noise, fireworks, people, situations like vet visits and more. This fast acting flower essence can also help dogs who are shy, lack self confidence and are easily discouraged.

Summer is the worst time for fireworks, and thunderstorm season runs throughout the year. If your dog has issues with noises, including wind, noisy cars, this product can help. My dog, Clyde, was fine with fireworks until he was 7. We traced the change in his behavior to his rabies shot - rabies vaccinois. He would now tremble and get skittish when people set them off. I gave him the Fear Tincture, (started a day before the 4th, and during) and he was able to lay on the  bed without shaking and panting. It was a vast improvement.

This remedy acts to 'filter' the emotions and make the situation tolerable for pets and their people. It takes the edge off without drugging or harming them. You can take it too. 

The active ingredients in this formula are Aspen, Gentian, Larch, Mimulus, and Rock Rose.

Give 1 drop per 10 lbs on gums or tongue, or double/triple it if putting in food. You can give 3 times a day between meals or mixed into the water dish. Initially, dose may be repeated every 5 to 15 minutes up to 1 hour as needed in acute situations.
One-half ounce - $10.95. 2 ounces - $32.95